A modern motocross motorcycle is a combination of high engine power, lightness, incredible strength, agility and ease of handling. Many people dream about this, some try to do it on their own.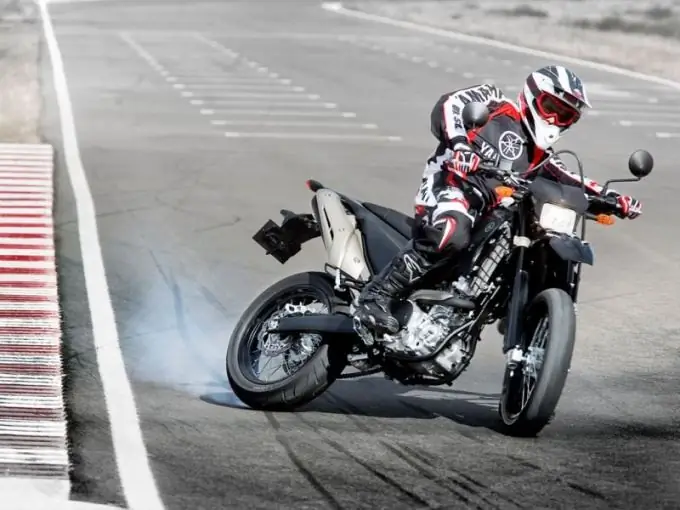 Instructions
Step 1
You can become the owner of a motocross motorcycle simply by buying it in a store. In this case, the buyer's requests can be limited only by his financial capabilities. However, the purchased model does not always satisfy the buyer with some parameters, and then the process of finalizing the motorcycle in order to improve its characteristics and appearance, known as "tuning", begins. Tuning is especially popular with bikers who give their bikes the most incredible exotic look.
Step 2
The most advanced adherents of motorsport, and there are few of them, prefer to make cross-country motorcycles with their own hands. It's worth starting with the wheels. Reinventing a motorcycle wheel from scratch is not worth it, you can just buy it. The standard of wheels of sports motorcycles is known - front - 120 / 70-17 and rear - 160 / 60-17. There are several options to adapt the wheels to your motorcycle - buy a rim and make a repositioning, as well as adapt sports or alloy wheels from a sports bike to it.
Step 3
If we are talking about buying a rim, then professionals recommend not to spare money and buy Excel. But this is not the easiest way out of the situation, since re-spacing is a very troublesome labor-intensive event, so most craftsmen prefer to adapt ready-made wheels to their brainchild. The preferred option is the option with cast wheels, which have greater endurance and strength when driving over rough terrain.
Step 4
Most racing bikes use stock brakes. To increase their reliability, it is recommended to increase the diameter of the brake disc or install a more powerful brake system with a caliper. Special requirements apply to the suspension.
Step 5
If you are converting a regular motorcycle into a motocross bike, then it is better to put a classic fork with a full range of adjustments. The 43 mm size is quite sufficient.
Step 6
It is better to choose shock absorbers for suspension from stock shock absorbers of well-known motorcycle models, taking into account the possibility of their attachment to the frame and swingarm. Shock absorbers can be ordered from the manufacturer, but in this case, the estimated weight of the motorcycle must be specified so that the correct springs are installed on the shock absorbers.
Step 7
A few words about the engine. For a long time, motocross motorcycles were produced with four-stroke engines. However, now, thanks to technical progress and increased power, two-stroke engines are gradually taking their place. If funds permit, we can recommend CRF, KTM, Kawasaki. But as the experience of domestic inventors shows, even an engine from an old Soviet motorcycle can be improved. To increase thrust, it is necessary first of all to reduce intake losses. To do this, the "native" paper filter should be replaced with a filter with foam rubber. Another refinement consists in replacing the carburetor with another, with greater capabilities, this will ensure the operation of the engine at maximum speed.