To get or change your license at the traffic police, you must have a certificate of medical examination with you. Now there are several ways how you can get this help. The polyclinic at the place of residence is far from the most convenient and cheap place for this.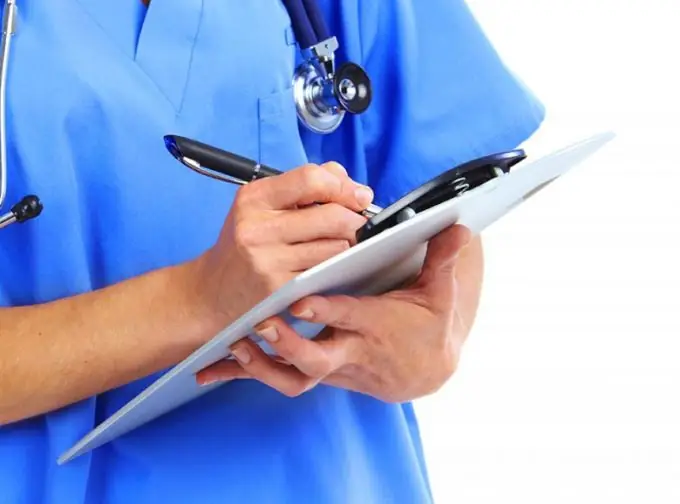 It is necessary
Passport, military ID, two 3 × 4 photographs
Instructions
Step 1
Before the medical examination, you need to take two 3 × 4 photographs and take them with you. One will remain where you will be examined, the second will be attached to the certificate. You will also need a passport and a military ID, which will have to be presented before the start of the commission. Do not forget to take your shoe covers and money with you. A medical examination for obtaining a license is always paid, no matter where you go through it.
Step 2
The easiest way is to get the necessary help from a driving school. Most of the large ones invite all the necessary specialists on a certain day so that all cadets can pass the commission in one day. The cost in this case is usually not very high, and sometimes it is even cheaper to undergo a medical examination at a driving school than all other methods. Most often, doctors come in the evening, so working cadets can come for a medical examination after work.
Step 3
Another option is a private medical center. There are many such institutions now. Before undergoing a medical examination in a private clinic, it is necessary to clarify whether there will be a psychiatrist and a narcologist on the commission. If these specialists are not in the medical center, then you will have to specially go to their dispensary at the place of residence. In large private clinics, usually all specialists are present on the commission, so a certificate can be obtained in a short time (a couple of hours in the absence of a queue). It is better to call in advance and find out the time when you can have a medical examination. Sometimes doctors in the first half of the day deal precisely with the medical board, and in the afternoon they only deal with patients with complaints. Therefore, you still have to take time off at work, but only for the first half of the day.
Step 4
You can also go through a medical examination at a polyclinic at your place of residence. Oddly enough, in some polyclinics the cost of a medical examination for a license is the highest in comparison with that within the walls of a driving school or a private clinic, and the list of necessary tests and doctors is very large. In this case, an examination by a narcologist and a psychiatrist will always have to take place in a narcological and psychiatric dispensary. Therefore, the medical examination at the place of residence takes several days. In addition, most often in clinics there is a very limited time when you can come for an examination (one or two hours a day), so be prepared for long queues and the fact that you will not have time to visit all the doctors at one time. It is worth contacting the clinic in two cases. First, you are really interested in your health status. In the clinic, you will receive a conclusion from a great many specialists, as well as the results of analyzes and fluorography. Secondly, you have a lot of free time. If every time you have to take time off from work, then the clinic is hardly the best place for a medical examination for a license.