In the modern world, employees who have a driver's license are highly valued, no matter what industry they work in. This gives the employer a certain guarantee that at any time, if necessary, you can use the car and thus increase the productivity of your work. In this regard, it has become popular to attend driving courses for the subsequent passing of the driving license exam.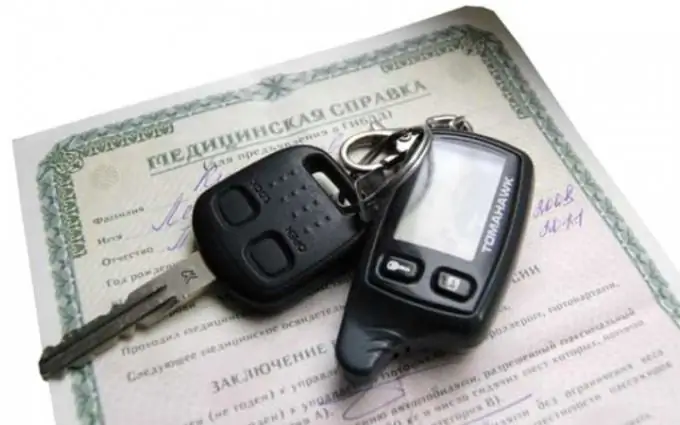 Instructions
Step 1
If you are one of those who are just about to do this, know that any candidate for drivers, before starting driving lessons, must go through a special medical commission and obtain a driver's medical certificate. In many driving schools, for the convenience of students, meetings of a licensed medical commission are organized on the road. In this case, it is very easy to get help. If you do not want to waste your time, find out in advance if a particular driving school has such an opportunity. You will need a driver's medical certificate in any case, so if there is an option to spend less time getting it, this is for the best.
Step 2
A certificate for a driver's license is issued upon availability of certain documents and payment for all services. Thus, you will need a passport and its photocopy, two photographs, and for men - an attribution certificate (military ID) and its photocopy. Also, be sure to pay for the services for a medical commission, the cost of which can be found directly at the driving school. If you are undergoing a commission in another medical institution, be sure to take a sample from the organization in which the driver's certificate will be issued. In the same place, find out which tests you need to pass and which doctors to visit.
Step 3
Some medical institutions do not have a narcologist and psychotherapist, so you will have to be examined by them in another medical organization. Be sure to take certificates from these specialists, with whom you will then come to the institution issuing a medical driver's certificate. In this case, you will need the same documents as described earlier.
Step 4
A driver's certificate is an integral part of the process of obtaining a driver's license, so do not delay its registration. The sooner you pass all the tests, pass the examination and get the result, the better for you. Moreover, a visit to the doctor was never superfluous, because you always need to take care of your health.