The future driver is obliged to know all road signs. They are remembered over time after regular trips around the city, so an experienced driver who graduated from a driving school many years ago remembers all the road signs perfectly. However, in order to pass the exam at a driving school, they have to be memorized from the pictures in the textbook.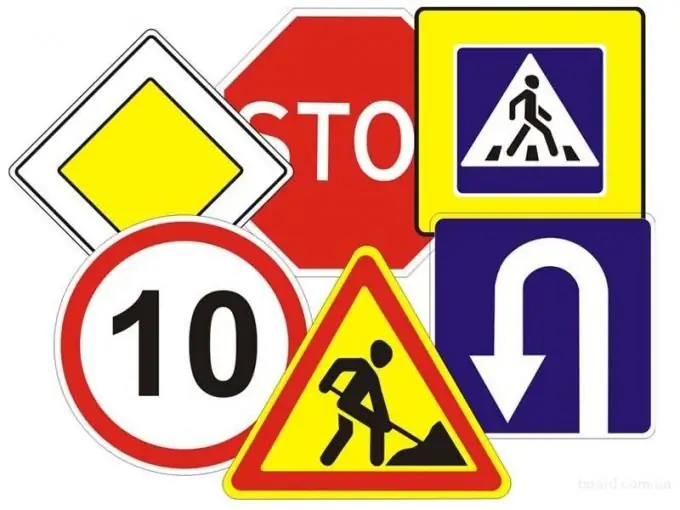 Instructions
Step 1
Divide all signs into three categories: shape, color, and image. Signs are round, triangular and square in shape. By color - red, blue, white and multi-colored. They can be represented by a symbol, number or picture.
Step 2
Remember that all prescriptive and prohibition signs, without exception, are round. These are the most important signs, and they must be remembered first. In this case, the red color means the prohibition of any action. For example, a round red circle with a white rectangle inside, commonly called a "brick", means that entry is prohibited. A round white sign with a red border always prohibits further movement in the selected direction. If anything is drawn on it, it means that travel is prohibited only for the type of transport shown on the sign.
Step 3
Remember that circular signs with a blue background are prescriptive. It is imperative to follow the "instructions" shown on them. For example, if you see a white arrow on a blue background, then you should only go where it points. This means that if the arrow on the sign "tells" to go straight, then turning to the right or left will be a violation.
Step 4
Learn the meaning of triangular signs. They can be divided into two categories: some warn the driver, while others establish the order of passage of vehicles at intersections without traffic lights. From the picture on the warning sign, the driver can easily understand what danger awaits him ahead. This can be a railway crossing, a drawbridge, a steep climb or descent, etc. As for the intersection of intersections, it is worth remembering that an inverted triangle with a red border instructs you to give way.
Step 5
Remember the information signs. They are usually square in shape and indicate pedestrian crossings, recommended speed, parking space, distance to settlements, gas stations, etc. To decipher such a sign, you just need to pay attention to the figure or number depicted on it.