The choice of the Niva car is determined, as a rule, by the optimal ratio of price and consumer qualities. The cross-country ability of this car is slightly higher when compared with foreign cars. Even if such cross-country ability does not suit the owner, it is necessary to prepare the Niva for off-road conditions. At the same time, the training program should not contain unnecessary costs, but at the same time maintain the versatility of the machine, without turning it into a tractor.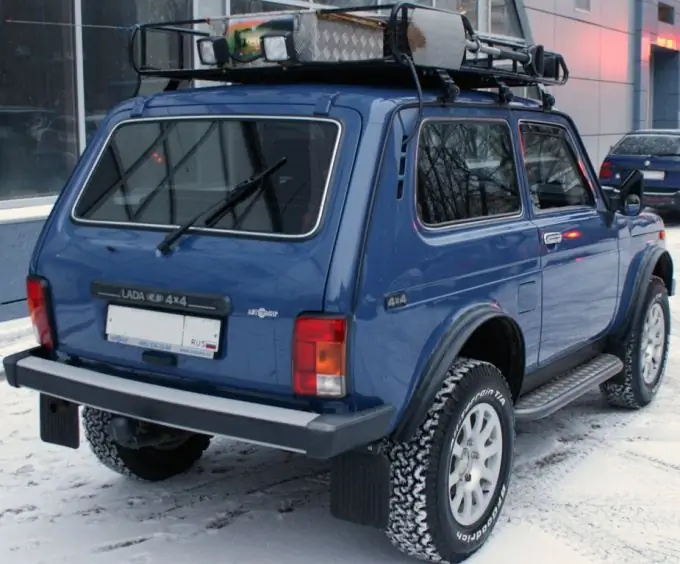 It is necessary
The original Niva car. Off-road preparation kits
Instructions
Step 1
Install a special camshaft to shift the torque peak towards low rpm. This is the easiest and most cost-effective way to slightly increase torque and lower traction. At the same time, grind the intake and exhaust ports of the block head and the intake manifold.
Step 2
Seal the air filter and install a snorkel to overcome water obstacles. Remove the standard fan, replace it with a double electric fan with forced control from the passenger compartment. When overcoming a deep ford, it can be turned off so as not to flood the ignition system with water. Equip the ignition system itself with additional waterproofing.
Step 3
Install larger wheels to increase ground clearance. Practice shows that the optimal size is 235 / 75R15. When installing such wheels, the ground clearance increases to 245 mm. Even larger wheels will increase the stress on the drivetrain and reduce its reliability.
Step 4
Fit 15 "by 6" rims for wider tires. To compensate for the weight of the wider wheels, forged wheels should be chosen.
Step 5
Install the main pairs with a gear ratio of 4.7 instead of the standard 3.9. This will give a certain amount of traction without significant losses in dynamism and speed. An intermediate option is the main pairs with the number 4.3 from the VAZ-2101.
Step 6
"Raise" the suspension to fit larger wheels can be done with longer springs at the front and spring spacers at the rear.
Step 7
Enlarge the wheel arches. Cover the cut points with soft wing extenders.
Step 8
Install long travel shocks to increase suspension travel. Adjustable dampers are recommended to be able to tune the suspension to new characteristics. Reinforce the shock absorber mounting points and front side members.
Step 9
Equip the rear axle with a limited slip differential.
Step 10
Check and install (if necessary) the front towing eyes. Better hooks. Put the tow bar at the back.
Step 11
Reinforce the bumper by placing a standard pipe, profile or channel inside. Reinforce the thresholds. Install the kangaring.
Step 12
Install an electric winch with a pulling force of 3-4 tons. You can put it on the front bumper or inside the trunk (if the Niva is preparing for a competition, and not for long trips).