To check used alloy wheels, you must have a wheel balancing machine, which is available at the tire service. One of the most common defects of used cast discs is a violation of the disc geometry, acquiring an ovoid shape. At home and with improvised means, it is not possible to check alloy wheels for defects and geometry.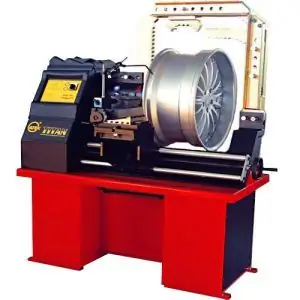 It is necessary
Used alloy wheels
Instructions
Step 1
To check used alloy wheels, take them to the nearest tire service. Ask the tire service workers to remove the rubber from the rims, if any.
Step 2
Explain to the tire technician that you need to check the geometry of the rims. Tire workers will check your alloy wheels on a conventional balancing machine and tell you about the defects on the wheels.
Step 3
If the geometry of the disk or disks is broken, then you will be prompted where you can fix this defect. This operation is performed on a special machine by hot or cold rolling. Such machines are not available at every tire fitting, so it is better to find out in advance the nearest workshop where you can immediately repair the disks, in case of detecting small metal defects or a violation of geometry, so as not to waste time on several trips to different points. Correction of a violation of the geometry of the disk costs from 600 rubles per disk.