Selling a car that is pledged to a credit institution is a rather difficult task, since the traffic police, where the car is registered, may contain a bank statement prohibiting it from being reissued to another person or removing the car from the register until it is completed commitment. However, there are several ways to get around these restrictions.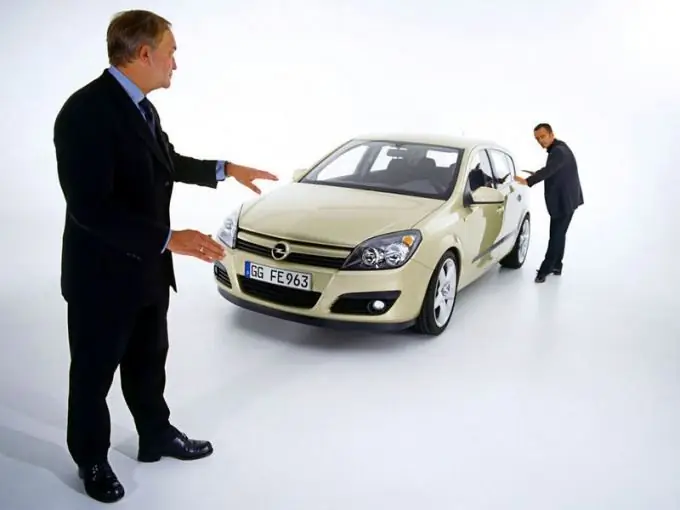 Instructions
Step 1
If your agreement with the bank from which you took out a loan for a car does not directly prohibit selling it, you need to agree with the buyer that you sell the car "by proxy". In other words, draw up a power of attorney to drive and sell a car to a buyer, he gives money for the car, and you pay the bank for the loan. In this case, although you formally remain the owner of the car, the buyer has the right to independently sell the car without you. That is, re-register it to a third party or deregister this car.
Step 2
Contact the branch of the bank where you took the car loan with a statement that you want to sell the car. Provide also a contract of sale of a vehicle, drawn up in the traffic police or at a notary. Of course, drawing up a contract with the latter requires additional cash costs to pay the state duty, but this will provide an additional guarantee for both you and the buyer. Next, the buyer repays the car loan you borrowed from a credit institution, and the bank sends a letter to the traffic police to lift the prohibition on the alienation of the vehicle. And together with the buyer, you already go to the inspection, where the car is removed from the register and re-registered with the new owner. With this method of selling, all parties, both you and the buyer, are legally protected.
Step 3
In agreement with the credit institution, change the subject of the collateral, that is, provide it with an alternative collateral, for example, real estate that you own. Thus, as a security for obligations, it will no longer be the car that you want to sell, but the apartment, which will now be banned. As a result, you will have all legal grounds to re-register the car as a buyer in the traffic police. After the conclusion of the contract of sale or donation and the receipt of money for the vehicle, you repay the loan taken from the bank, and your property is free again. With this method of sale, all parties involved in the transaction are also legally protected, but this method requires additional monetary costs to re-register the replacement of the collateral. Whether you want to incur additional costs is up to you.