Craftsmen can do anything they want, including a trendy ATV from the old Oka. After spending some time and a certain amount of money, you can make an ATV from Oka yourself.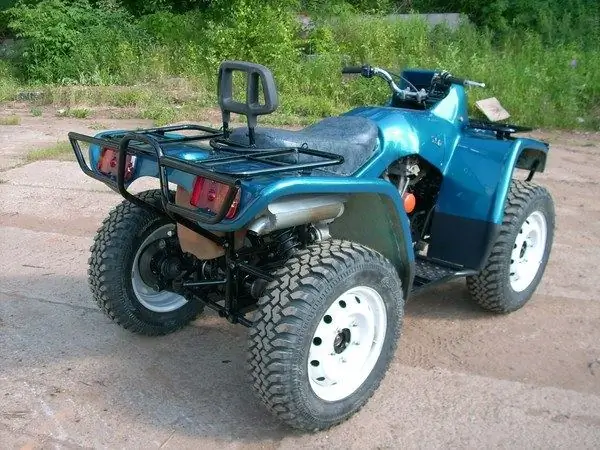 It is necessary
- wheels - Coordiant Off Road R15, wheels - Shniv;
- water pipes VGP25x3.2 - 7, 90m - 2 pcs (per frame);
- water pipes VGP20x2x8 - 6, 10 m - 2 pcs (for suspension arms, etc.);
- silent blocks, bolts, nuts, etc.;
- two rear axles from the VAZ 2101;
- hubs - VAZ 2109;
- fists from 2108 assembled with discs, calipers, etc.;
- drive shafts from VAZ 2108;
- interwheel gearboxes from VAZ;
- engine, front springs, rear shock absorbers from the Oka, as well as grenades, spring cups, etc.
Instructions
Step 1
To increase the speed of movement, replace the standard main pair in the Oka gearbox with a chain drive.
Step 2
Using the water pipes, weld the frame to make the skeleton of the ATV. As a rear suspension, take a trimmed rear axle from the classics, use the hubs from the VAZ 2109.
Step 3
Move the engine to the left so that the corners of the CV joints are smaller and the carburetor fits under the housing.
Step 4
Modify the gear shifting mechanism. On the right of the rod, make a position selection lever for shifting gears, and on the left - a pedal for engaging. Carve out an elongated new rod (lever) for gear shifting.
Step 5
Install the gearbox with a new stem on the frame. Take the steering knuckle from the VAZ 2109, and the steering bipod can be made yourself from an 8 mm thick plate.
Step 6
Choose wheels for the ATV, Coordiant Off Road R15 off-road tires and Shniv wheels (outer diameter of tires about 65-66 cm, width 21 cm) are good. To install the wheels from the Niva on the hubs from the VAZ 2109, make special adapters.
Step 7
Start making the die for the ATV lining. To do this, buy resin, fiberglass, polyurethane foam, find very thick cardboard. Make a frame out of cardboard, strengthen and process everything with polyurethane foam. After drying, sand and cover the matrix with a release layer.
Step 8
Put the ball from 2109 and the steering tip from the UAZ. Take the steering wheel from the motorcycle "Minsk" or "Ural" (22 or 24 mm).
Step 9
Make details on a solid blockhead: rear fenders, a front with places for headlights, a tunnel under the dashboard, a false tank. Make the middle part removable for access to the engine.
Step 10
Buy the right optics. Assemble the electrics, connect the generator, battery, ignition switch, headlights, etc. Take the dashboard from the Oka.
Step 11
Disassemble the ATV and paint all parts. Then put it back and test the new technique.