On a VAZ 2107 car, in order to replace or simply remove the speedometer, tachometer or any other device located on the dashboard, you must first disconnect the shield.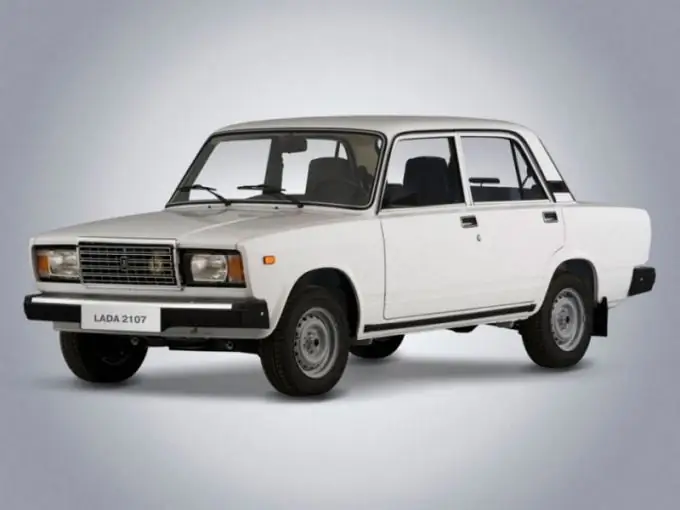 Instructions
Step 1
Disconnect the battery before starting work. Use a slotted screwdriver to gently release the handle latches. Remove them from the levers. Take out the nozzles of the central air duct, there are two of them, pry them with a screwdriver and pull them out.
Step 2
Disconnect the heater switch and pull it out. After that, disconnect the wire connectors from the switch. Do not forget to mark the order of connecting the wires so that in the future there will be no problems during the subsequent assembly. Remove the plug and unscrew the self-tapping screw that secures the instrument panel with a screwdriver.
Step 3
Remove the handle of the daily mileage counter by unscrewing the corresponding nut. Gently press down on the handle and push it inward. Grasp the right side of the flap and pull it towards you. With the other hand, unscrew the speedometer cable mount; this can be done by sticking your hand into the gap formed.
Step 4
Disconnect the hose from the econometric fitting by first moving the shield to the right. At the same time, disconnect the connecting blocks that fit the devices, they do not need to be marked, they are marked in different colors. After that, you can finally remove the instrument panel.
Step 5
At the same time, check or replace the instrument cluster, because you cannot reach it without removing the shield. To do this, remove the mounting bolts and disconnect the combination. When installing, pay special attention to the flexible shaft of the speedometer drive. It should not have kinks and intersections with other wires, as well as with the heater control cable. Pay attention to all bends, which should not exceed 100 mm.
Step 6
When installing the instrument panel, do everything in the reverse order. Remember that first connect all electrical contacts and turn on the ignition, check the functionality of all the device and devices. Only after that, finally secure the flap.