Modern passenger cars have rear-view mirrors glued into the windshields. But over time, the regular glue gets old and falls off. The question arises: how to glue? Do not go with such a trifle to a car service!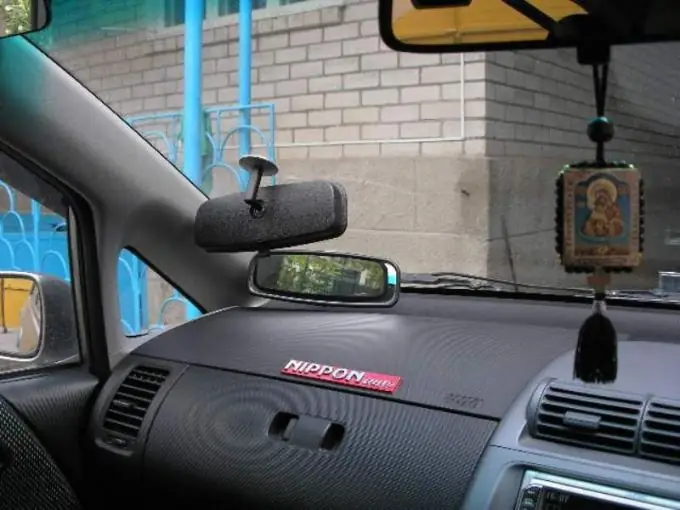 It is necessary
- special two-component glue in a primer (cartridge);
- a gun for squeezing out glue
Instructions
Step 1
Do not try to glue mirrors with all-purpose instant adhesives. Use only two-component specialty products purchased from a car dealer. Only these types of adhesives are able to withstand humidity, temperature changes and vibration while driving. Make sure the product you are using is not expired. Make sure you always have a spare cartridge of the same brand on hand, just in case
Step 2
Select a location on the windshield where the mirror will be located. Usually it is glued in the center, equidistant from the driver and front passenger. In addition, make sure that the mirror attachment point is protected from direct sunlight and cold air currents. If the windshield structure does not have a seal, do not glue the mirror too close to the edge of the glass. When choosing the place for gluing, take into account the location of the rain sensor and the VIN number (no glue should get into the area of its application).
Step 3
Clean the windshield and rear of the mirror from dirt and old glue residues, degrease with alcohol and dry well. Remove the bracket and holder from the mirror. On the surface of the windshield, stick an adhesive marking tape-mesh in the place where the mirror is installed.
Step 4
To do this, find the special mesh included with the glue. Cut out the workpiece by attaching it to the mirror. At the same time, try to match the shape and dimensions of the workpiece as closely as possible with the mirror itself. Glue the blank mesh on the windshield from the side opposite to the installation site of the mirror. Shake the primer vigorously and apply a thin, even layer of adhesive to the back of the mirror. If using a glue squeeze gun, hold it upright with a slight tilt. Then press the mirror against the windshield, gently pushing on it.
Step 5
After waiting at least 15 minutes, peel off the glue that has come out of the mirror and leave to dry for 24 hours. At the same time, keep the front door windows down. During this time, try to clean the windshield from the marking tape and all glue residues. To speed up the drying procedure, create a room temperature of at least 23 degrees