Ural motorcycle owners often think about whether to put a larger rear wheel, for example, from a car. At the same time, the motorcycle will become more stable, easier to control and brake, and just look more solid.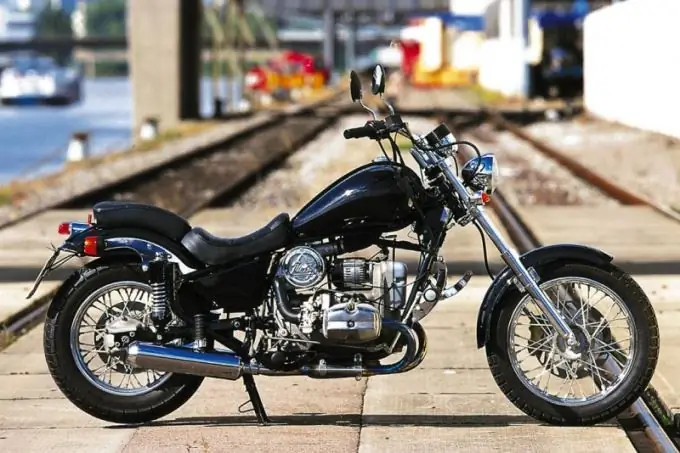 It is necessary
- motorcycle;
- wheel;
- steel and stainless plates;
- a chain from a VAZ car;
- angle grinder - grinder;
- set of tools;
- welding machine and electrodes;
- a table with a vice.
Instructions
Step 1
First of all, decide which wheel you want to put on. If you choose a fairly narrow wheel, for example, from a Zaporozhets, then you can do without expanding the frame. For a wide wheel, you will have to completely disassemble the frame into its component parts and assemble it again, welding a more suitable option.
Step 2
Weld with the highest current to ensure the best weld quality. Try to complete the entire perimeter seam in one pass. To ensure that the wheels are evenly positioned, use grapples when cooking. Cut the ends of the pipes at the desired angle and, when cooking, lay with an insert from a thin pipe.
Step 3
Try to put the wheel from the car onto the motorcycle by shifting the gimbal with the gearbox. Make the gearbox from steel plates (10 mm thick), insert 4 housings for 304 bearings into it.
Step 4
Make shafts from steel 12KhNZA, making an allowance of 0.3 mm, cement. Grind in the centers, put stars from the VAZ timing belt. Please note that the sprockets must sit on the original keys and be supported on both sides by lock washers.
Step 5
Make oil seal housings for the yoke of the cross (for the rear gearbox oil seal) and for the damper fork (for the oil seal that you have in stock). Modify the damper fork by pressing in the clip and machining in the center to the desired size.
Step 6
Take a chain from a VAZ car and shorten it, measuring the size after the fact. If possible, put a lock on the chain. Please note that when you install the chain, there should be some slack in the chain to give the gearbox free play.
Step 7
Place the gearbox on the box structure or plate so that the mounting location is sufficiently rigid. Please note that otherwise it may be ripped out. If you are installing the gearbox on a frame with a swingarm, make sure that the swingarm axis is aligned with the output shaft axis.