Correct adjustment of the variator allows you to slightly improve the dynamic characteristics of the scooter or the smoothness of the ride. For a tuning scooter, the new settings will help smooth out the emerging shortcomings of the uprated engine. Such as, for example, dips at low and medium revs. The main idea of adjusting the variator is the selection of weights by weight and size.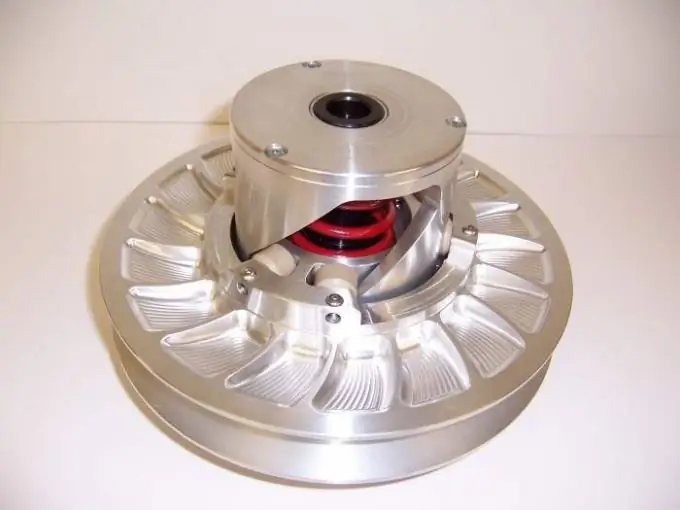 It is necessary
- a tool for removing and disassembling the variator;
- variator puller;
- new weights-rollers
Instructions
Step 1
Before adjusting the transmission of the scooter, make sure that the engine is fully functional and correctly adjusted. Disassemble the variator. This is a daunting task in itself if you've never done it before. In order to qualitatively disassemble the transmission of the scooter and not to rip off the crankshaft splines, purchase a special variator puller. Locate the roller weights inside the moving part of the drive pulley. Assess their condition and wear.
Step 2
If your scooter is not made in Europe, but made in China or intended for the domestic market in Japan, be sure to measure and weigh all the weights. For owners of European models and Japanese ones intended for export, data on the dimensions and weights of the rollers can be taken from the instruction manual or booklets of tuning companies.
Step 3
Visit a scooter parts store or tuning store. From the brochure of some good tuning company, pick up new roller weights. Please note that the dimensions of the new rollers must correspond to the original ones, and the weight should be 0.5-1.5 grams less than the standard ones. The ideal option would be to purchase three sets of weights: half a gram, one gram and one and a half grams lighter. This will allow you to more accurately adjust the variator to your weight and engine.
Step 4
Be sure to consult your dealer if your size tuning rollers are not included in the brochure. You should not rely entirely on his opinion, since store employees are also not always competent. Therefore, be sure to measure and weigh the samples offered to you yourself.
Step 5
By installing the new casters on your CVT, you will get small but noticeable improvements in dynamics. If you have the foresight of purchasing multiple tuning roller kits, experiment with riding on each kit. But in any case, do not use too light weights - they will not allow the motor to reach maximum speed, which will negatively affect the maximum speed.
Step 6
If the purpose of adjusting the variator is to smooth out the dips of a forced engine at low speeds, purchase weights not lighter, but heavier than standard ones. If you put heavier weights on a scooter with a standard motor, dynamics will deteriorate markedly, but there will be a gain in acceleration, especially with a heavy load.