In car dealerships, lead-acid batteries are sold direct (they are equipped with all domestic cars) and reverse polarity (installed on some foreign-made cars). Before purchasing a battery, you must accurately determine its polarity.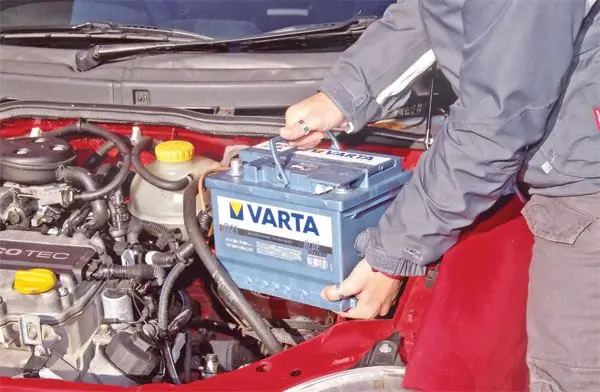 It is necessary
Voltmeter
Instructions
Step 1
The service life of any rechargeable battery is limited and is usually no more than five years. Having worked out the allotted time, the moment of replacing the power unit necessarily comes. And if the owners of domestic-made cars have a problem in choosing a battery of the appropriate capacity and giving preference to a certain brand, then owners of imported cars need to find out the polarity before buying.
Step 2
To achieve this task, the battery is removed from the battery socket and positioned in such a way that, when visually inspected from above, its terminals should be at the bottom. Please note that one of them is slightly thinner than the other (it is minus).
Step 3
If the negative terminal is located on the left (bottom) of the battery, then the battery is of reverse polarity.
Step 4
In cases where the thinner terminal on the right is a battery of direct polarity.
Step 5
To finally make sure that the polarity of the battery is correctly determined, connect a voltmeter to it. In this case, the red probe of the device removes voltage from the thick terminal, and the black one - from the thin one. The indication on the scale without the "minus" sign confirms the investigated parameters of the battery.