If you are tired of driving your moped in silence, you can install a small music system on it. At the same time, musical components should have effective sounding, ease of installation and almost not take up space.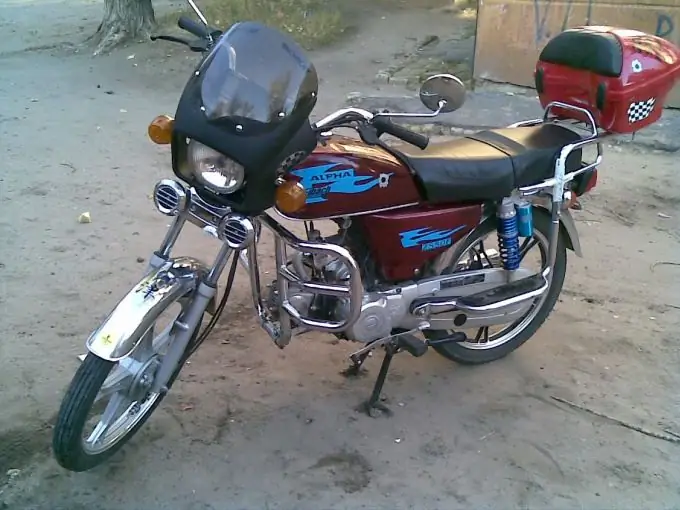 It is necessary
- moped;
- speakers;
- amplifier;
- two-core wire for power connection;
- switch off;
- a player or mobile phone as a sound source;
- motor accumulator for 27 amperes and 9 ampere-hours.
Instructions
Step 1
Think over and assemble the rear or side saddlebags for the moped. Make a wardrobe trunk out of plywood. Inside the case, consider and make the necessary mounts for all components of the music system. Embed the speakers into the case of the case so that the sound when the case is installed is directed towards the rider.
Step 2
To make the process easier when assembling the cabinet, do not install one of its panels - the one into which you will embed the speakers. Secure this panel after all connections and checks have been made.
Step 3
Equip the on-board electrical system of the moped with a battery or install a motorcycle battery instead of the standard one. Run the wires from the battery to connect the amplifier.
Step 4
Install the speakers into the case panel. When installing multiple speakers, place one of them on the steering column to get a stereo sound effect. Lead the wires from the speakers to the amplifier and connect, observing the polarity. Insulate the wire connections.
Step 5
Take the music source cable from old headphones with a suitable connector. Take it to a convenient place so that you can connect a player or phone without distracting from the controls.
Step 6
Connect the amplifier power supply to the ignition switch or directly to the battery. Lead the negative wire from the amplifier to the frame and fix it, having previously stripped the junction. Connect the positive wire through the shutdown toggle switch. Install the toggle switch on the case of the case in a convenient place.
Step 7
Make an alarm to remind you to turn off the music system. To do this, take an LED or some kind of signal indicator from another moped and scooter. Connect it to a toggle switch so that the indicator is constantly on when the music is on. Fix the indicator itself outside the case of the case so that it is clearly visible.
Step 8
Thoroughly insulate all wire connections, plug in the music, and test that it works. Then place the case in the desired location and fasten it securely. To improve the appearance of a wardrobe trunk, upholster it with leather, cover it with a cloth or paint it.