The Niva car does not differ in hurricane dynamics and high maximum speed. Therefore, those wishing to get more power and traction from this machine have developed and tested various methods of tuning the engine, which differ in the complexity of installation and use and the effect produced.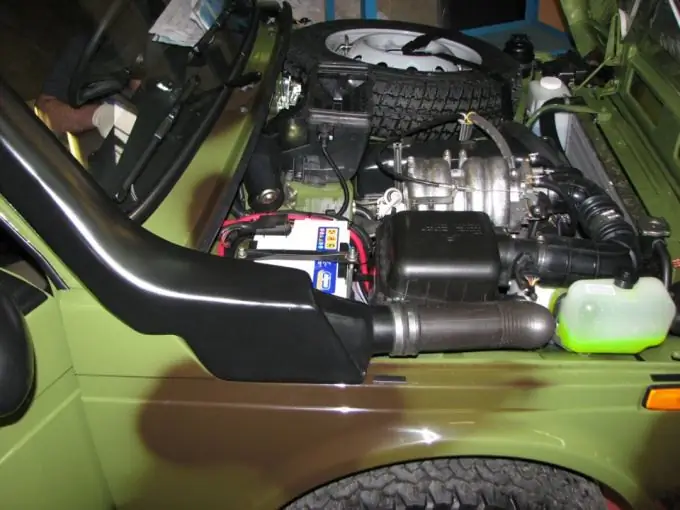 It is necessary
The original "Niva". The car must be in good working order and as little worn out as possible
Instructions
Step 1
You can independently increase the power of the Niva engine in the following ways:
- Install lightweight valves and their guides, lightweight flywheel;
- to increase the section of the outlet and inlet channels of the block head;
- increase the cross-section of the intake manifold;
- install a camshaft that increases power and torque at medium and low speeds;
- install a direct-flow exhaust system;
- Install a sports (lightweight) timing drive.
- install an air filter of zero resistance;
- to bore the engine cylinders (to increase the working volume).
For the carburetor engine, a Solex carburetor with 24-26 mm diffusers is additionally installed instead of the standard one. The ignition system changes to electronic with a Hall sensor from more modern VAZ models. An increased power engine will require a radiator with an increased cooling area. The described program allows you to remove up to 120 hp from the VAZ-2121 engine. By installing two Solex carburettors, the power can be raised to 136 hp.
Step 2
Many specialized firms offer the installation of a turbocharger for Niva and Chevrolet-Niva cars based on the GARETT GT17 turbocharger. The installation cost is about 60,000 rubles. The effect: an increase in power from 80 to 105 hp, torque from 120 to 170 Nm, a slight decrease in fuel consumption. The engine's resource is preserved, the fuel quality is gasoline with an octane rating of at least 95, maintenance is standard for turbocharged vehicles.
Step 3
Fine tuning the engine management system using chip tuning. Changing the program in the electronic control unit eliminates the shortcomings made by the developers and not noticed during the tests. For a standard Niva engine, chip tuning will give an increase in power and torque of 10-15%, for a turbocharged engine up to 35-40%.