Extraneous engine noise, which appears when the engine is idling and disappears after an increase in speed, indicates an increase in thermal gaps between the valves and pushers of the engine timing mechanism.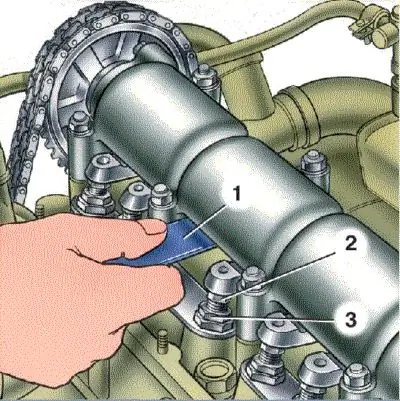 It is necessary
- 13 mm spanner;
- 10 mm spanner;
- A95111 probe for measuring the valve clearances of the VAZ.
Instructions
Step 1
When starting to adjust the valve clearances in the engine of a VAZ 2107 car, it must be borne in mind that this work is carried out only if the engine is cold.
Step 2
Before the start of direct adjustment of the clearances, the engine crankshaft is cranked until the mark on the camshaft drive gear is aligned with the mark on its housing.
Step 3
If this condition is met, the clearances of the eighth and sixth valves are adjusted. For this purpose, the lock nut of the adjusting bolt of the required valve is released. Then, by inserting a dipstick between the rocker arm and the camshaft cam, the adjusting screw rotates in the direction required to normalize the clearance. During adjustment, gradually moving the dipstick, the degree of its clamping between the camshaft cam and the rocker arm is determined. When the probe moves in the indicated space with a slight load, the unscrewing of the adjusting screw is stopped, and the lock nut on it is tightened. Then the dipstick is removed and the next valve clearances are adjusted.
Step 4
When done with the adjustment of the 6 and 8 valves, the engine crankshaft rotates 180 °, allowing the next pair of valves (sequentially: fourth and seventh, first and third, second and fifth) to be adjusted in the same way as described above.