The process of selling a car by an organization to an individual is different from a transaction between two individuals. The main difficulties here are experienced by a legal entity. And they are connected, mainly, with the need to correctly arrange the sale of a car and observe the subtleties and nuances provided for by the legislation of the Russian Federation.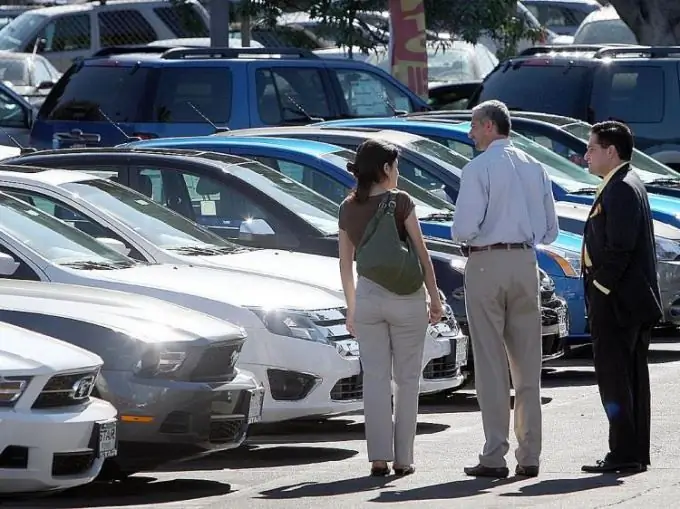 It is necessary
- contract of sale;
- act of acceptance and delivery or invoice.
Instructions
Step 1
Draw up a sales contract. This can be done both in simple writing and on a special form. Make sure that all the details of the organization are indicated in it, and from an individual - passport data and address of the place of residence. In addition, prepare a vehicle acceptance certificate or a vehicle delivery note.
Step 2
Accept funds from the customer through the organization's cashier. In return, the cashier must issue him a receipt slip with the seal of the organization. Only after that, proceed to the registration and signing of the acceptance certificate for the car, indicating the technical characteristics and shortcomings of the car. If the organization does not provide for a cashier, the accountant can perform the function of receiving money from the buyer. The accountant is obliged to reflect the amount received for the car in the reporting period as net profit.
Step 3
In addition, the buyer can transfer money for a car through a bank to the current account of a legal entity on a PD-4 receipt. This receipt must indicate: from whom the money is transferred, the purpose of the payment and the number of the sales contract. This is the only way to transfer funds if the organization, for some reason, does not have a cash register and cannot issue a cash register receipt.
Step 4
Confirm the value of the car with an independent appraiser certificate in case the organization sells the car to a director or one of the executives. The fact is that the participants in such a transaction are interdependent persons and during the audit the organization can be fined. In this case, money can be simply transferred from the personal account of the director or manager to the current account of the legal entity.
Step 5
After signing all these documents, the representative of the organization removes the car from the traffic police register, and the buyer puts it on record in his own name. A representative of a legal entity must have all documents for a car, an identity document and a general power of attorney from the director of the organization.