The trailer is essential when transporting large or heavy loads. Connecting the trailer's electrical circuit to the electrical circuit of the towing vehicle allows the trailer lights to work synchronously with the rear lights of the towing vehicle. Seven-pin trailer connectors are widespread, while 13-pin connectors are not easy to find, especially if you need to replace the connector.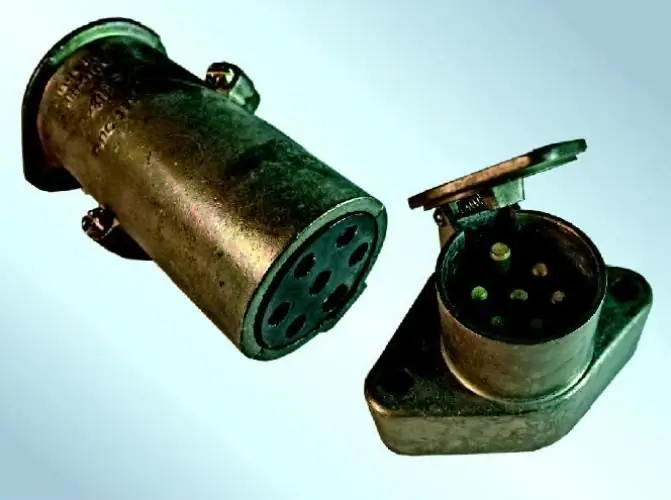 It is necessary
Trailer socket and plug, mounting kit, power cable
Instructions
Step 1
The European wiring diagram is as follows: pin 1 (designation L) - left direction indicator, contact 2 (54G) - rear fog lamp, contact 3 (designated as 31) - ground, contact 4 (R) - right direction indicator, pin 5 (58R) - right side marker light and license plate light, pin 6 (denoted as 54) - brake light, pin 7 (58L) - left side marker light. All used wires with a cross section of 1.5 sq. Mm, with the exception of the "ground" contact (here the cross section is 2.5 sq. Mm).
Step 2
The Russian scheme looks like this: contact 1 - left direction indicator (yellow wire), contact 2 - fog lamp (blue wire), contact 3 - ground (white wire), contact 4 - right direction indicator (green wire), contact 5 - reserve, 6 contact - brake light (brown wire), 7 contact - side lights (black wire).
Step 3
With any combination of electrical circuits of the tractor and trailer, the main functions will be respected. However, if the tractor is with a Russian scheme, and the trailer is with a European one, the right side marker light may not work on the trailer. If the tractor is European, and the trailer is domestic, the right side marker light on the trailer may not work when it is switched on. And when you turn on the left side light, both will work.
Step 4
You can connect the connector on a simple and inexpensive car by tapping into an electrical circuit through the taillights. If the towing vehicle is equipped with a K-bus or LED taillights, to connect the connector, pull the power cable and install the unit with the relay. The signals from the rear lights of the tractor should be used as control signals. For a power cable, a double-insulated stranded copper wire with a cross-section of each core of at least 1.5 sq. Mm is suitable. The connections must be made so that they are connected only in the only correct way. To do this, the contacts must be alternated, and when connecting the sockets, follow the special cutout at the bottom of the socket.
Step 5
The socket should be fixed to the metal bracket located on the towbar using 3 screws and nuts. Such fasteners do not need to be redone when replacing the socket.