In recent years, there has been a trend towards the spread of scooters among teenagers. If earlier they were a wonder, now, probably, every student has. The scooter has many advantages and almost no disadvantages. Firstly, it is quite easy to operate. Secondly, it is not as big as a motorcycle. Thirdly, and this is perhaps most importantly, a scooter does not need a license, because it is considered as a bicycle with an outboard motor from the point of view of road traffic regulations. But, like any technique, a scooter or its elements can malfunction. The carburetor is one of the most important parts of any vehicle (with a motor, of course). How do I adjust it correctly so that it lasts longer?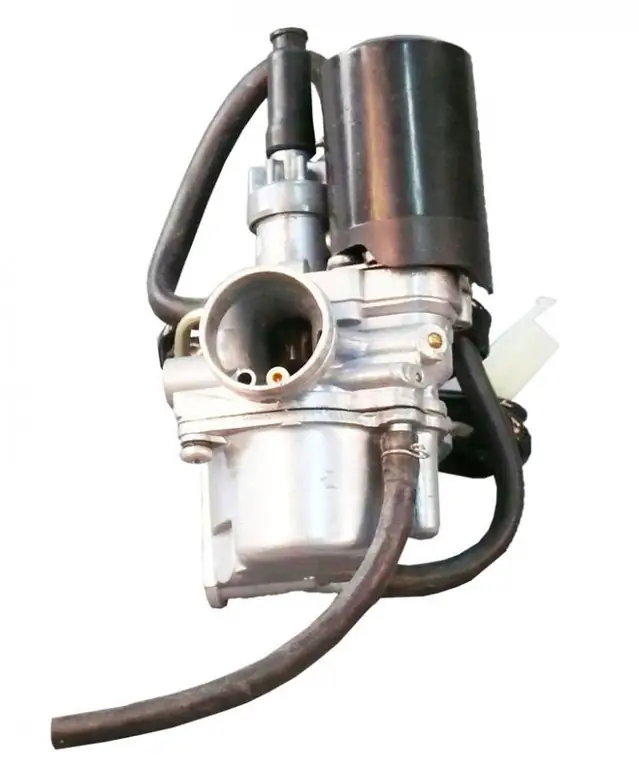 Instructions
Step 1
Before adjusting the carburetor, the first thing to do is to warm up the engine, because there will be no sense from the adjustment when the engine is cold. It is also recommended to replace the spark plug and flush all carburetor passages before tuning.
Step 2
You have done the preparation for work, now the adjustment itself begins directly.
The first thing you need to do is adjust the idle screw to keep the engine running and not stall. In the case when there are no idle revolutions, or when they are too low or high, by tightening or unscrewing the screw, we decrease or increase the revolutions, achieving a value of 1800 plus minus 100 revolutions per minute.
Step 3
Then you must tighten the fuel mixture screw completely. As a result, the engine should stall. If this does not happen, check the tightness of the air supply from the air filter.
Step 4
The next thing you do is loosen the fuel mixture screw one turn.
Step 5
The next step you need to take is to start the engine and adjust the idle screw to get the engine RPM around 2500 rpm.
Step 6
Then you should slowly loosen the fuel mixture screw to achieve maximum engine speed. But do not loosen the screw too much. Two full turns will be enough, but not more.
Step 7
After that, you need to re-adjust the idle screw, achieving an engine speed of about 1800 (plus minus one hundred revolutions) per minute.
Step 8
The final step. Turn the throttle grip several times and check if the engine is holding the idle speed. If everything is in order, then the carburetor of your scooter is set up correctly and you can safely ride without fear of any problems with it along the way.