Car manufacturing is a complex and multidimensional process. First, an automobile plant produces various parts and assemblies, then robotic systems assemble the cars. In addition, an important stage is the manufacture of components. Only clear and well-coordinated work allows the mass production of modern cars.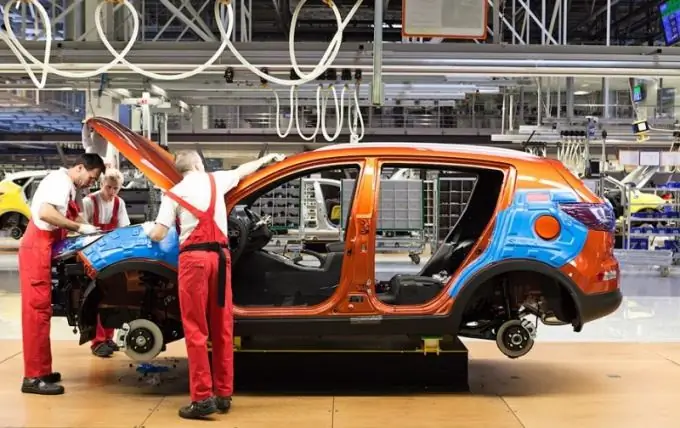 Instructions
Step 1
The production process of a car begins with the manufacture of body parts at a car factory. Each of them is assembled in several stages, after which they become the basis of the so-called subassemblies (body bases, sidewalls, etc.) - body parts. In total, the body includes about 500 elements. They are interconnected most often by electric spot welding. The welding lines producing it can be up to 200 m long.
Step 2
More than 100 robots carry out body assembly and spot welding. They are divided into certain groups: some robots are engaged in assembling and welding the rear floor of the body, others are assembling the hood, etc. This is achieved by the program introduced into their electronic memory. By changing the program, you can assign robots to work on other parts.
Step 3
Typically, automotive factories have a machining complex that performs some of the main automated production processes: gears, shafts, steering parts, etc. The huge area consists of dozens of automatic lines, many parts move from one machine to another. There are also robots installed here that remove parts from the conveyor, install them on the machine, in the control or washing unit, and then return them to the conveyor.
Step 4
Thanks to special robocars, parts produced in various workshops of the plant and heat-treated parts are loaded onto a single conveyor, where their final assembly takes place. Numerous workers of the plant are already engaged in the installation and adjustment of complex electronic mechanisms, as well as monitoring all production processes. Assembled cars, before going on sale, take places on a specially designated site or are tested on a specialized track.