When the battery is operating, oxyhydrogen gas is formed. That is why it is impossible to inspect it by illuminating it with open fire. Any battery should be checked once a month. In this case, you need to maintain a certain level of electrolyte.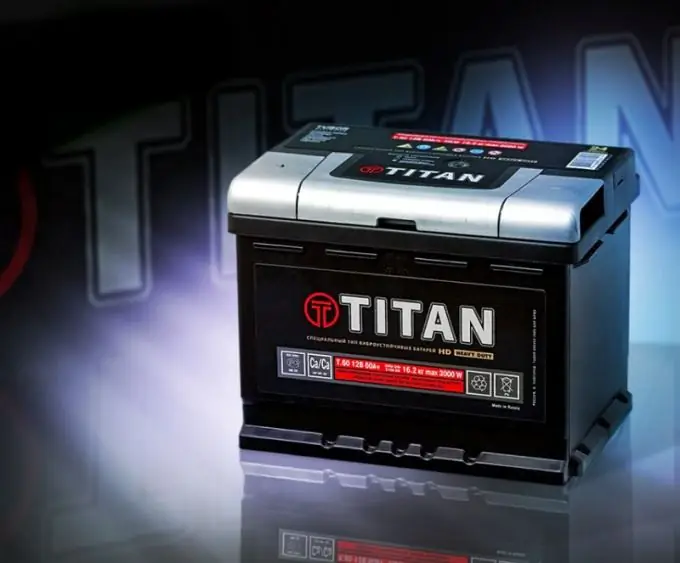 Instructions
Step 1
In order to bring the electrolyte level to normal, it is necessary to fill in distilled water. The fact is that when heated, water evaporates. The battery attachment should also be checked every 15,000 km. It is recommended to remove any deposits from the cable lugs that are attached to the pole pins. First, remove the white residue completely. It is best to use a sanding paper for this purpose. Then apply a thin layer of petroleum jelly to the outer surfaces.
Step 2
Please note that electrolyte that has been accidentally spilled on the surface of the battery must be removed immediately. For this purpose, take a regular rag and soak it in baking soda or 10% ammonia solution. Remove dirt and moisture with a stiff bristle brush. The electrolyte must not come into contact with metal parts of the car - this can lead to corrosion. If this happens, then immediately clean the place of contact and paint with an acid-resistant paint.
Step 3
If cracks appear on the battery case, it is recommended to take it in for repair. Temporary cracks in the battery bank can be sealed with plasticine. Rinse the area around the damage well.
Step 4
You can check the electrolyte level through the filler holes. There is a special glass tube for this purpose. Its inner diameter is 3-5 mm. Lower it into the battery guard. Then close the outer hole tightly with your finger and remove the tube. A bar in the tube will indicate the level in the battery.
Step 5
In batteries with an indicator, the electrolyte must be at the same level with it. If there is no indicator, then the level should be about 10 mm above the safety plate. If the level is higher than optimal, then it is necessary to suck it off with a rubber bulb with an ebonite tip, otherwise the electrolyte will spill out of the battery.