I am very pleased with the car. I think Renault Duster is the dream of any car enthusiast. I did not find any drawbacks, but there are many advantages. Firstly, the car is very easy to operate, very maneuverable. The salon is chic, spacious, comfortable, roomy trunk. The car is very economical, fuel consumption is only 8-9 liters. I am satisfied, and to everyone who is still thinking to buy Renault Duster or not, I will say with confidence - take it, you will not regret it!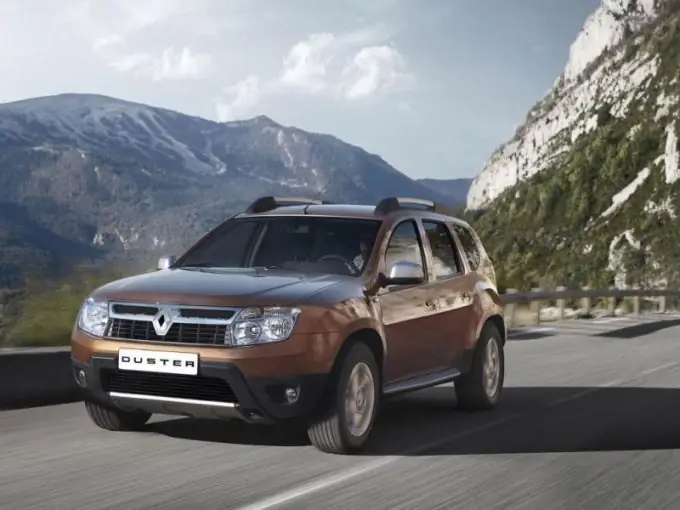 Renault Duster for the whole family
Roman
As soon as Renault Duster went on sale, we wanted to buy it. The car is reliable, normal cross-country ability and is inexpensive. I had to wait in line when buying a car. We liked the interior very much - it was spacious and practical, with good quality finishing materials. There is enough space for the whole family. Renault Duster is great for fishing and summer cottages. Fuel consumption is normal on the highway, 8 liters, if you drive at a speed of about 100 km / h. In the city, the average consumption is 12 - 13 l / 100 km.
Renault Duster
vladkor
A year ago, a friend took for himself a Renault Duster 1.6 MT 4WD Laureate. Observing the car and listening to his reviews, I wanted to write the following. A friend is happy with the car hitting him about 20 thousand km. Russian name Renault Duster. This is a compact crossover developed by the Dacia concern. What are the advantages. Firstly, it has a chic cross-country ability. Also, the presence of HBO should be attributed to the merits. At current gas prices, this is a big plus. The service is also good but expensive. The disadvantages include poor tolerance of severe frosts -25 and higher (it does not start well on gas)
Super car
Soligarh
The car is awesome! I bought it 2 months ago, and I didn't regret it. Large roomy trunk, cozy interior, and the very look of the car is super! Consumption of only 8 liters. Compared to my previous car, it is economical for me! The cost of the car is also normal, it corresponds to its price - not expensive, not cheap, average. In general, I am delighted! Recommend!
A little disappointed
alladin
I chose the car for a very long time, but when I came across Renault Duster, I thought - here it is, my dream. Very nice car, roomy trunk, comfortable and free interior. We consulted on the technical characteristics, I liked everything, I decided - I buy. Within a few days I was disappointed. Firstly, a very noisy interior, and secondly, the fuel consumption is almost 10 liters (8 was promised). But in general, a normal car for the money.
The car is what you need
alfiya
About 2 months I was determined with the choice of a car, and, in the end, settled on Renault Duster. Naturally, one of the main roles for me was played by the appearance of the car - the car is just cool! The salon is gorgeous, very comfortable and quiet. Consumption of about 8 liters. And for the price is not expensive for such a car! The only negative is constantly dirty thresholds, I always get dirty about them)
Purchase of Renault Duster
Max2304
At first I wanted to buy Logan, but I wanted something more abruptly, and saw Duster, there was money at that time, went to the store and after 2 weeks began to ride. Optionally installed parking sensors and exchange rate stability system. I liked the nice design, good fit (considering my height of 190 cm), the cabin is spacious, the trunk is large, and the seats are comfortable. I was also pleased with a good overview and ground clearance. The suspension is wonderful, the rails and off-road conditions soften without problems. True, there is not enough space behind the driver's seat for a tall person. Now I have already dashed about 11 thousand km. There were no particular problems.
Review of Renault Duster
evig
Renault Duster works off the money invested in its acquisition. The car has a good energy-intensive and rather soft suspension, has a clear engagement of gears with a short stroke (many do not like the short stroke), normal adjustment of the driver's seat and good cross-country ability. Gasoline consumption per 100 km is moderate (in city mode - 10.5 liters, on the highway - 7.7 liters). The car starts to work well only after running in 3000 km. I like Renault Duster.
Drive Renault Duster
Svetik
We bought a Renault Duster car with a 1.5 engine, drove it from Chelyabinsk to rest in Anapa, four of us and loaded ourselves to capacity. We got to the Ural mountains perfectly, but in the mountains the engine turned out to be weak. The engine is certainly economical, and it is very convenient for the city, but it is better to take the 2.0 engine. Renault Duster with 1.5 engine is the best vehicle for summer residents. It is convenient to go with your family to a picnic, to the forest and to the nearest lakes. In general, we liked the car and the price is reasonable.
A machine that will suit many
dusiy
If you count all my income, then I can hardly be attributed to the middle class. Therefore, when the question arose about buying a car - its price, gas mileage, cost of spare parts were decisive factors. At the same time, I wanted it to be comfortable and have high cross-country ability, since I live in a village and there is not asphalt everywhere. A friend advised me to pay attention to the Ranault Duster, which has two drives, a reliable chassis and an economical engine. For six months now, my purchase and I was not disappointed in it. The Ranault Duster is a practical car for our Russian roads.