Due to the high consumption of gasoline, I installed gas equipment on my UAZ Patriot, which I was very pleased with! A balloon in the trunk does not interfere with accommodating a bunch of equipment for outdoor activities - from a barbecue to a tent and a bag of firewood. Problems opening doors - handles sink, especially at the rear. In general, I am very pleased, this is the third UAZ model I have.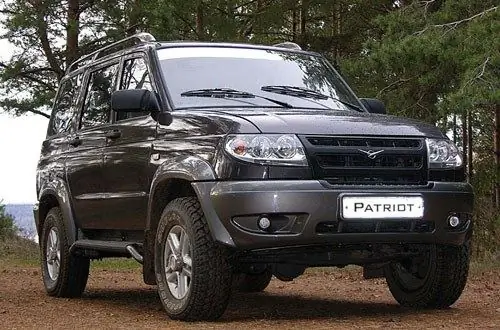 The car I wanted
Stepan Talyzin
I wandered around the markets for a long time, read the ads, and decided to stop at the domestic UAZ Patriot car, the reviews of which were mostly positive. The run-in was successful, did not reveal any significant shortcomings. I've been driving for a year now, I'm happy, now I can say with sovereignty that I bought the car I wanted, despite the decent fuel consumption.
My new UAZ
Sanyok656
I bought a UAZ Patriot three months ago specifically for fishing and hunting. I bought it from an authorized dealer, initially the problem arose with the delivery time of the car under the order - it took 1, 5 months. There are no complaints about cross-country ability - puddles, mud, even small fords pass without difficulty. It strains a lot of gasoline consumption -azh 17 liters per 100 km, and this is in the city. Probably, it was necessary to take a diesel engine.
Lucky car
Karpovich Victor
There was no money for a good imported SUV, but I wanted to buy something powerful and large. Friends advised UAZ Patriot, reviews of which I studied carefully and for a long time. It was frustrating that many were unhappy with the build, but what to expect from manual picking. Surprisingly, the car pleased me pleasantly. Nice, powerful, fuel consumption is certainly not small, but the dimensions are also decent.
UAZ Patriot is the best SUV
Vasikina
We have long wanted to buy an SUV for trips to the country and rest. The choice was stopped at the UAZ Patriot. Everything is fine in the car, a large trunk, a spacious roomy interior, good cross-country ability. The car is reliable, it has never let us down. The UAZ is made just for Russian roads. Of course, minor repairs have to be done. But I don't think there is an absolutely perfect car. UAZ Patriot is a warm and comfortable car for a large family. Convenient to travel long distances.
I'm happy with the car
Alex
I am a fisherman and a hunter, I have to travel on different roads, and often completely off-road. For this reason, my choice fell on the UAZ Patriot, the reviews also contributed to this. The car has fully justified itself. Even if there are some minor flaws, the main thing for me is good cross-country ability. I am quite satisfied, and I do not regret my purchase and the money spent.
Powerful car
Mikhail Trofimov
We live in an area where roads are not very good, which is why we bought a UAZ Patriot, the reviews for which we heard different, sometimes not at all flattering. But I can't say that the car disappointed us. Of course, there are disadvantages, first of all, this is the build quality, but when purchasing a domestic car, you need to be prepared for this. But in general, the car is normal, powerful, and with good cross-country ability.
UAZ - SUV
Sveta
I like the Russian car industry, it is unpretentious and easy to use. The Patriot has a high seating position, excellent visibility, a roomy interior, you can ride in it with a large family both on vacation and on off-road adventures. UAZ Patriot is the choice of many Russian people who like to ride in snowdrifts in winter and in mud and mud in autumn. The UAZ car is of high quality and affordable for many. UAZ Patriot is making good progress in the city without delaying anyone.
UAZ patriot
BYDAtm
I think that UAZ is a car with character. It needs a special approach. Despite the disadvantages of this car, such as quick breakdown or wear of parts, the quality of the plastic from which the interior is made is still poor. There are a lot of pluses. A car for big people, a very comfortable fit and a large salon. With a competent approach, I mean, the driver's skills, overcomes impossible, at first glance, obstacles. And also, with proper operation, it can take a long time without repair.