For proper operation of the fuel pump, it is recommended to clean and, if necessary, replace its components. To remove a fuel pump in a Ford Focus car, it is necessary to take into account the peculiarities of its location and fastening.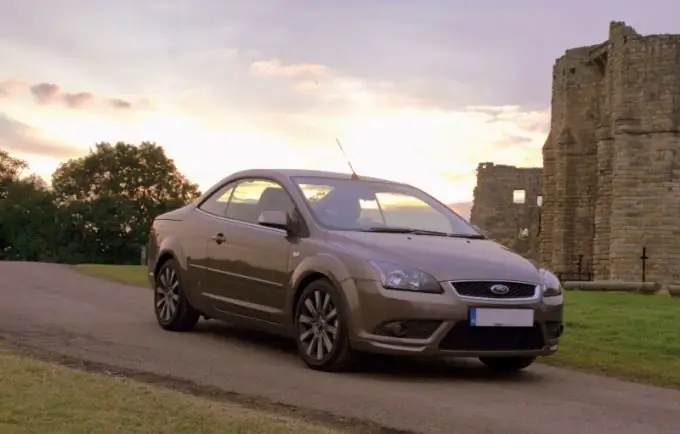 It is necessary
- protective gloves;
- rags.
Instructions
Step 1
When starting to remove the fuel pump included in the Ford Focus car in a single assembly with the fuel flow sensor and located in the upper part of the tank, wear protective gloves.
Step 2
Remove the hatch cover located in the cargo area in the floor panel. Since the assembly is lowered into the fuel tank, vapor is emitted when it is removed. In this regard, ensure that the room is well ventilated and that the vehicle is sufficiently far from heating devices and sources of fire.
Step 3
Relieve residual pressure in the power supply system. After making sure that the vehicle is parked on a level, level area, disconnect the negative cable from the battery.
Step 4
Fold the rear seat of the car forward, then remove the floor panel cover. Unscrew the fastening screws and remove the cover that hides the fuel pump and fuel flow sensor assembly in the floor panel.
Step 5
Locate the wiring connector at the top of the assembly and disconnect it. Cover the union connections of the fuel return and supply hoses with a rag. Loosen the clamps and disconnect the hoses from the top of the assembly. Label the hoses in the order in which they are connected. Please note that there are special symbols on the fittings - arrows indicating the direction of flow.
Step 6
In the opening of the fuel tank, unscrew the plastic ring that secures the assembly. You can perform this action using sliding pliers used when working with plumbing fittings.
Step 7
Turn the assembly to the left so that the bayonet lock is released and, after allowing the remaining fuel to drain, remove it from the tank. Remove the rubber gasket.
Step 8
Remove the pump assembly with the sensor from the car and place it on a spread cloth or cardboard sheet that can absorb moisture well. Examine the float located at the end of the sensor arm for punctures and signs of fuel penetration. Replace damaged float.
Step 9
Also inspect the tank access door gasket rubber. If damage is found, replace it.