In those cases when the engine of a VAZ 2112 car began to lose power, and extraneous mechanical noise is heard in the area of / u200b / u200bthe location of the fuel tank when the engine is running, then the fuel pump of your car is probably working at the limit of its capabilities and will soon become unusable.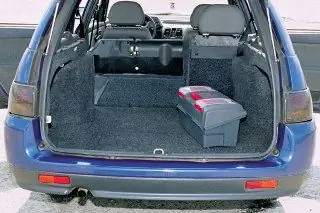 Necessary
screwdriver
socket wrench 10 mm
Instructions
Step 1
In order to confirm or refute the suspicions that have arisen, it is necessary to check the pressure in the engine power supply system. But if it is within the permissible limits, dismantling the fuel pump cannot be avoided.
Remove the flap above the gas tank and relieve the pressure of the gasoline in the fuel line. To do this, squeeze the spring-type clamp on the gas line. Then disconnect both hoses from the pump and move them aside. And start unscrewing the tubes with a 10 mm wrench. Unscrewing - remove both tips.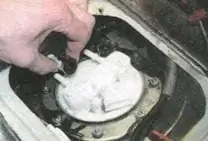 Step 2
To dismantle the fuel pump, it is necessary to sequentially unscrew all the nuts of its fastening. And then remove the metal ring of the device fastening together with the nuts and grovers.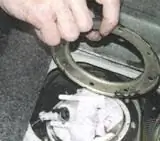 Step 3
After removing the pump, despite being intact, replace its O-ring rubber.