If you want to transform your car, make it unique and different from the "gray" most other cars, you do not have to spend huge sums of money on it, resorting to the help of a tuning studio. You can limit yourself to styling: cover the entire car body or its individual parts with vinyl film. This operation does not require any special skills, and no special equipment is required for this. The most common are matte black and carbon imitation films.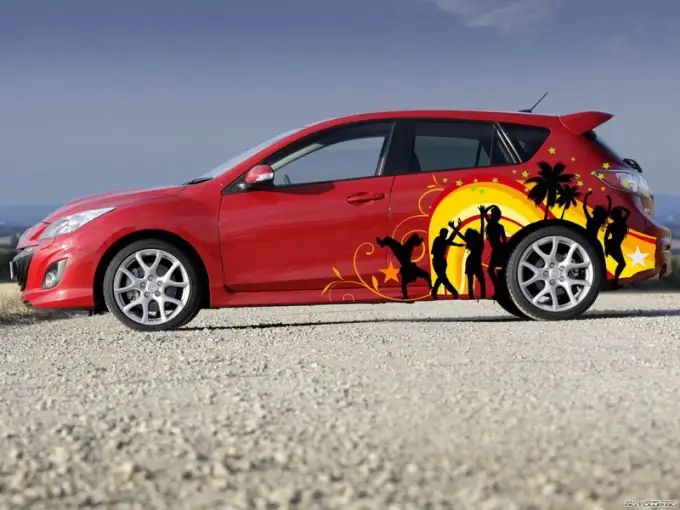 Instructions
Step 1
Wrapping the body with self-adhesive vinyl is an inexpensive alternative to completely painting a car and is as much as three times cheaper. At the same time, vinyl film has its undoubted advantages:
Protects paintwork from chips and scratches;
Can be quickly removed and replaced with a new one;
Inexpensive;
Provides the car with an excellent appearance - from a few meters it can be easily confused with a paintwork;
Some film coatings can be polished to a high shine.
Step 2
The technology of the process of wrapping self-adhesive vinyl film is not very complex and in many ways resembles the process of gluing wallpaper. The only caveat is that the film needs to be handled more carefully. From the first try, beginners rarely manage to stick the film smoothly and efficiently. Therefore, you should buy a film with a margin. You also need to prepare the surface of the car before you start covering: wash the car, remove dirt, rust and oil stains.
Step 3
Remember also that the film will make large defects in the car body (such as chips) visible. Therefore, close up all the irregularities before covering. You can also additionally treat the prepared surface with an abrasive paste. Then stretch the film over the bonnet and roof so that there are no creases or air bubbles. Then subject the glued surface of the machine to heat treatment with a special hair dryer.
Step 4
Poorly glued film can be pulled, but this requires a special tool (a set of squeegees of different sizes) and, probably, only professionals can do it.
Step 5
After gluing the film, the car must be left indoors for at least one day. The car should be washed not earlier than after 10-15 days and only by hand.