All four-stroke and two-stroke scooter owners have wondered what can be done to make the moped go faster. There are several main directions of tuning a moped engine. Depending on the desired increase in speed and financial capabilities, several levels can be distinguished.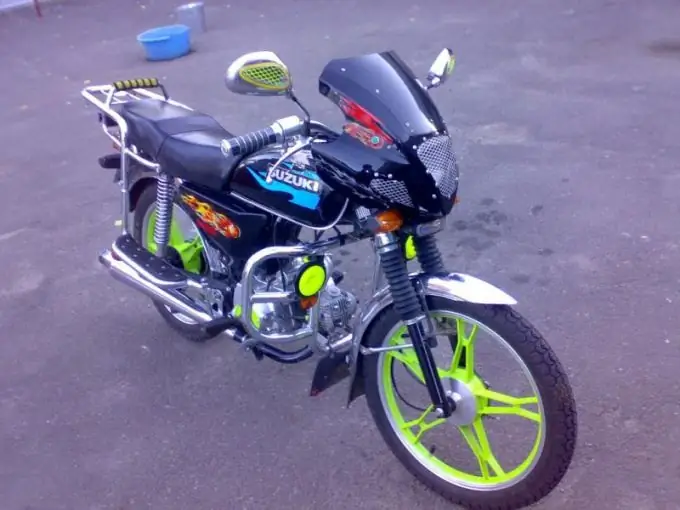 It is necessary
Tuning or sports parts
Instructions
Step 1
To tune the moped at the most budgetary level, replace the variator weights, remove the maximum speed limiter and bore a standard cylinder for a piston with a diameter of 44 or 47 mm. Weights can be purchased at any parts store, or you can make your own. Entrust the boring of the cylinder to professionals. The total cost of such tuning will be about 1000-2000 rubles. When the cylinder is bored up to 44 mm, the moped will begin to develop 65 km / h, with a bore up to 47 mm - up to 70 km / h. Acceleration dynamics will improve, this will hardly affect the engine resource.
Step 2
To tune a moped at an average price level, replace the standard piston group of 50 cc with a piston of a larger cubic capacity (for example, 72 cc), install a sports variator. Compared to the tuning described above, the engine resource will not decrease, and the speed will probably reach 70 km / h, mainly due to an increase in the gear ratio of the variator.
Step 3
For an expensive tuning of a moped, replace the piston with an 80 cc one or bore the cylinder for a 50 mm piston, install a cylinder head with an enlarged carburetor or change the old jet for an enlarged one. Install a wide-phase camshaft if desired. With this level of tuning, the speed reaches 75-80 km / h, the engine life is slightly reduced (especially the crankshaft with bearings). There is an opportunity to get under way with a slip and "goat".
Step 4
Completely overhaul the engine for maximum tuning. Install a 90 cc piston (bore 52 mm), oversized valve head, sports variator, branded cylinder-piston group, sports variator. Put the carburetor from a light motorcycle 125-150 cc or a tuning sports one. Be sure to use a branded wide-phase camshaft, heavy duty or sports crankshaft. As a result of these changes, the engine life will be reduced, the dynamics will be comparable to a 125-150 cc motorcycle, the speed will reach 90 km / h. Do not forget to install an air intake in the cooling system, supply oil cooling to protect against overheating.