Sometimes motorists have situations when the ignition switch key does not fit well or turns badly. In this case, you can try to replace the larva of his castle.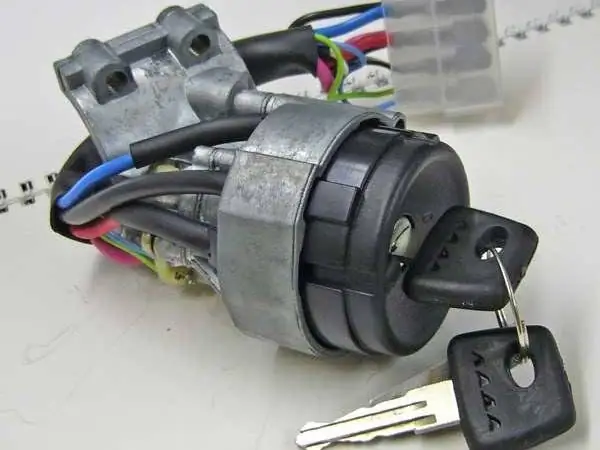 It is necessary
- larva complete with new keys;
- Phillips screwdriver;
- thin watch screwdriver;
- thin drill;
- chisel;
- a hammer;
- pliers.
Instructions
Step 1
Disconnect the negative terminal from the battery. Remove the screws securing the steering column shrouds. Two of them are located near the steering wheel and two near the dashboard.
Step 2
Unscrew the screws securing the lower and upper steering column shroud. Remove the covers. Access to the ignition switch lock is open. In principle, the lock larva can be obtained already at this stage. To do this, pull out the side pin holding it in the lock. This can be done with a thin watch screwdriver by tapping it with a small hammer. If the pin does not come out, try carefully drilling out the larva with a thin drill.
Step 3
If you decide to remove the ignition switch before changing the cylinder, then first unscrew the bolts securing the ignition switch to do this. This must be done with a hammer and chisel, since their heads are cut off. Loosen them slightly and then unscrew with pliers. Remove the bracket and ignition switch from the steering column, disconnect the electrical connector.
Step 4
Unscrew the self-tapping screw for the ignition relay, remove it from under the panel and disconnect the connector. Disconnect the relay ground wire. Use a Phillips screwdriver to unscrew the self-tapping screw, squeeze the latch, remove the cover and the contact group. So, you took out the ignition switch.
Step 5
Remove the cylinder from the ignition switch lock as described in point 2. Replace it. Check the operation of the lock with a new cylinder by turning the ignition key. Install the ignition switch in reverse order. Replace the steering column. Remember to connect the terminal to the battery. Check the operation of the ignition switch and other electrical equipment in the vehicle.