A dirty fuel pump mesh causes poor vehicle dynamics, a drop in power, and intermittent operation. Poor-quality fuel is the reason for the destruction of the tank, which is why its inner part crumbles and a metal deposit forms at the bottom.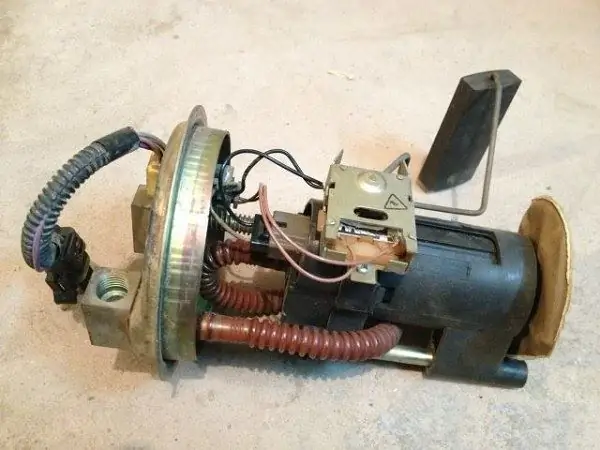 Low quality gasoline and time will destroy the fuel tank. It begins to rust from the inside, small metal particles settle at the bottom. To prevent them from entering the fuel system, gasoline filtration is provided. A grid is installed in front of the electric pump to prevent dirt and metal particles from entering the blower and fuel line. Even vehicles with carburetor injection systems have a filter for cleaning. It is mounted on a tube immersed in fuel.
Preparing for repair
On VAZ cars, starting from model 2108, the fuel tank is installed under the rear seat. To carry out repairs, you will need to perform the following operations:
- disconnect the negative terminal from the storage battery;
- open the rear doors;
- raise the rear seat by pulling on the strap provided for this.
Soundproofing material is laid on the bottom. It has a rectangular cutout. You need to lift a piece of soundproofing to open access to the window in the body. This hole provides access to the elements of the fuel system located in the tank. Before starting the repair, get rid of the dust and dirt that is around the plastic plug.
Removing the fuel pump and level sensor
Use a Phillips screwdriver to unscrew the two self-tapping screws holding the plastic cap on the body. On vehicles with an injection system, the pump and sensor have a common attachment to the gas tank. And on cars with carburetor motors, there is a tube in the tank through which fuel enters the power system, as well as a float with a rheostat.
The top cover, to which the elements of the power system are attached, is screwed to the tank with nuts. They need to be unscrewed with a socket wrench with a head of 7. Do not forget to clean the surface before that, as a lot of dust and dirt can accumulate on the gas tank. You can remove everything with a vacuum cleaner, or with a paint brush. Disconnect the power connector and the level sensor. On cars with a carburetor power system, only the indicator connection wires are available.
Use a Phillips screwdriver to loosen the clamps that secure the fuel hoses. To prevent the latter from interfering, set them aside. Only after that you need to unscrew the nuts securing the top cover to the tank. Remove the entire assembly from it for repair. On carburetor engines, the mesh is removed using pliers. Using the same tool, you can also remove the filter element on injection vehicles. The installation consists in pressing the mesh onto the fuel pipe.